Battery Storage
Store energy & save money
With the battery storage solution, we now have readily available; we can put a stop to that wasted energy your solar panels have worked hard to generate with the Samsung SDI Energy Storage System. In the past, battery storage for solar PV systems have been uneconomical for most households and lifestyles, with high price tags for the return you receive, short life spans and very bulky lead based batteries. However, with the revolutionary Samsung SDI ESS, that's no longer the case. For the first time in the UK, it represents a leap in inverter and lithium-ion battery technology making household power storage a worthwhile investment.
The battery works in conjunction with your Solar PV Panels, investing in the system means you maximise both the returns from the government's FIT scheme and the free renewable energy you have generated to use when the sun isn't shining!
We've put together a high quality packaged product that's going to complement most domestic size installations and provide sufficient energy storage for most lifestyles. We can provide you with an extensive warranty as we use a top trusted brand name Samsung for our products, which are renown for their quality innovation, design & engineering.
The concept is simple but effective: while your solar panels are generating energy during daylight, if you don't require it immediately in the property, the system will send the energy back to the national grid. The battery storage system will take the energy bound for the national grid and charge a battery unit for you to use later on yourself. Once fully charged, if there is any extra it will be fed back into the national grid. When the panels cease to generate electricity, the inverter will pull the free stored energy from the Samsung SDI ESS unit to power your home. Only when the System is 'empty' or fully charged, does the system take power from the grid.
Samsung SDI's ESS is based on the world leading lithium–ion cell technology currently used in cutting-edge IT devices and vehicles. Samsung SDI batteries adhere to the same strict quality assurance standards demanded by global automotive companies and large-scale utilities. You can rest assured the batteries will work effectively and safely for many years to come.
In addition, the web-monitoring system allows you to easily check the ESS's current operation, such as PV generation rates, battery usage and the charge state of the battery. The web-monitoring system connects to the internet to provide an unparalleled remote assistance service, which detects errors in advance.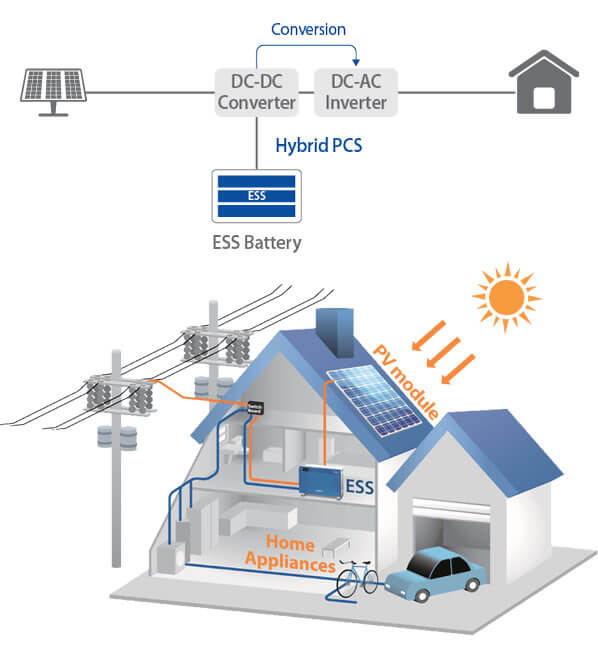 The Benefits
Samsung SDI 'Smart Solution for a Green World'

Built in Dual MPPT Inverter
It's more than the usual standard inverter. Of course, it converts direct current (DC) from the PV panels to alternating current (AC), but it does much more. The inverter has a dual input so it can handle east/west split systems also while providing valuable monitoring information.
Fault Finding & Remote Monitoring
The unit provides an integrated remote monitoring facility to any internet (or 3g) device giving you full control and allowing you to overlook your system's performance. We, at Direct Home Storage, also will be linked into the system via our installer login so we will be able to notice (if any!) faults occur, we will be sent an error report and contact you before you would even notice!

A Quality Solar Lithium-Ion Battery With a Great Warranty
This is no ordinary battery. This is a high performance lithium-Ion battery and has been developed to withstand the particularly rigorous regime of discharging and recharging over a prolonged period of time. The lithium ion battery offers storage up to 3.6kWh (3.24kWh usable) – enough for a typical household's low / medium wattage appliances throughout an evening & comes with an extensive warranty covering you for up to 10 years or 6,000 cycles!
Dimensions
Running a holiday sale or weekly special? Definitely promote it here to get customers excited about getting a sweet deal.
Guaranteed Quality System
While our system is a first in the UK it is already widely used in Germany, Australia, Belgium, Netherlands, Denmark and Austria. The inverter has a 10-year warranty.The Lithium-Ion batteries have a 10-year performance warranty.

Warranty
The Samsung SDI battery system comes with a 10-year battery life warranty.
The Granary, Water Lane, Albury, Guildford, Surrey, GU5 9BD