Solar Thermal
Varisol evacuated tube collectors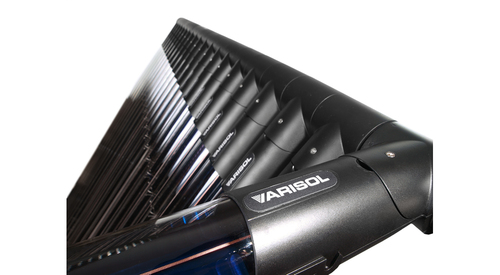 Varisol is the first solar evacuated tube collector with no rigid manifold offering high performance as well as total flexibility. The revolutionary new design of Varisol offers a modern and flexible alternative to traditional rigid manifold collectors.
It combines award-winning technology of Thermomax HP and DF evacuated tubes with a unique design which allow tubes to simply click fit together to create solar thermal collectors of varying sizes (up to 150 tubes in a row) to meet the needs of your domestic or commercial property.
Kingspan Solar FPW Flat Plate
Kingspan Solar's range of flat plates has been specifically designed for the UK climate, delivering excellent levels of efficiency throughout the year. The panels are robust, hard wearing, sleek and subtle in design. Kingspan's FPW panels are flexible in installation and can be installed both 'in-roof' and 'on-roof'. They can be fitted in a variety of domestic applications – both in new builds and refurbishments. These panels offer a straightforward solar thermal solution, perfect for the needs of UK homes.
Solar water heating systems use solar panels, called collectors, fitted to your roof. These collect heat from the sun and use it to heat up water which is stored in a hot water cylinder. A boiler or immersion heater can be used as a back-up to heat the water further to reach the temperature you want.
There are two types of solar water heating panels:
2
Flat plate collectors, which can be fixed on the roof tiles or integrated into the roof.
Solar Water Heating
Domestic Renewable Heat Incentive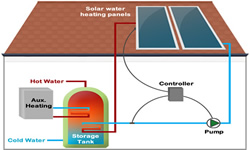 Solar water heating panels work by utilising the 'greenhouse effect' – directing light onto either a flat panel or tubes residing in a vacuum. A vacuum is an excellent insulator as you'll recognise from use of vacuum flasks.
This helps to keep heat loss to a minimum. What counts is the amount of light falling onto them, rather than ambient temperature. In fact, solar panels have been successfully used in the Antarctic for some time now. Care must of course be taken to ensure they are not shaded and work best when facing south, though any roof facing within 90°s of south will be suitable.
The UK receives plenty of light throughout the year, enough that a panel area of 1m² is generally sufficient to provide hot water for each adult in the property. The minimum panel area would normally be in the region of 2.5m².
One of the most common configurations is to have 2 coils in the hot water tank, one for the solar heating, one for a conventional back up such as gas or electricity. This is both more convenient and efficient.
Over the course of a year, the panels should provide some 60% of the property's water heating needs, Summer naturally being the most effective with close to all needs being met, though even during the Winter, around 20% of water heating needs should be met, chiefly by raising significantly, the temperature of the water before it is necessary to heat it further by conventional gas or electric methods.
Our Customers
Here's what our customers have to say:
"The team of installers were a pleasure to have in my home. They worked very well as a team and both were efficient and courteous."
Janice
"We are very happy with all the installation. The workmen were very helpful and polite. I feel confident that if anything should go wrong in the warranty period, you will put it right."
The Herberts
"Excellent service! Dan and Jan and true professionals."
John Truman
Installation of a Air Source Heat Pump, I am very happy with the installation, clean, tidy and very professional job.
Martin Main
RHI Heat Pumps provided a detailed up-front and quote with no up-front fees (unlike some other companies we dealt with) and then installed a quality Windhager biomass boiler for a competitive price. The boiler was signed off by Windhager after installation, so there were no concerns about the job and six months later, we are not missing our unreliable, unsightly, environmentally unfriendly oil boiler at all.
Gerard Lewis
Very pleased with the installation of our heat pump. It wasn't straight forward, as we had a recurring leak. You really get to know a company when you have a problem - especially after you have paid. RHI Heatpumps stepped up to the mark, and made sure we were 100% happy.
Deryck Arnold
The Granary, Water Lane, Albury, Guildford, Surrey, GU5 9BD